This is a Sponsored post written by me on behalf of ALPO® Brand Dog Food for SocialSpark. All opinions are 100% mine.
ALPO's variety dog food sure does bring excitement to mealtime for my boys, and I must say that I am highly entertained by the experience. Maybe you remember the first video I shared with you of my boys devouring the stuff! Well today I am sharing video number 2, equally cute and funny. This time they have their way with the smaller 5.5 oz cans. This was the perfect amount for my little guy…
As you will see in the video, the beagle destroyed all 5.5 ounces at a rate of 1 ounce per second. It's true. He would have liked a larger serving, or 10.
It is clear they can't get enough, which is fine by me. ALPO® delivers nutritious great taste in a variety of flavors your dogs will love. Every can is 100% complete and balanced, containing quality ingredients. They come in small cuts or finely ground, great for mixing with dry food (wonder if that would slow the Beagle down a bit).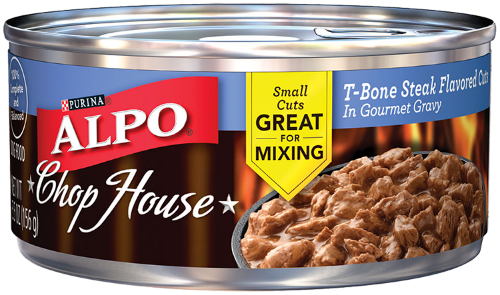 ALPO® Chop House 5.5 oz. is a compact can great for small dogs and comes in unique flavors, such as T-Bone Steak Flavored Cuts, Tender Cuts With Lamb, Filet Mignon Flavor, and Rotisserie Chicken Flavored Cuts. Healthy proteins, wholesome grains and vegetables, combine to give your dog a complete and balanced diet for every stage of it's precious life. ALPO dog food supports a happy, healthy life, shiny coat, strong teeth and bones and wagging tail at the sound of the can opening! A healthy dog is a happy dog.
For more cuteness and information, follow ALPO® on Instagram. You can also follow ALPO's Facebook Page.