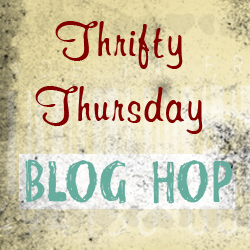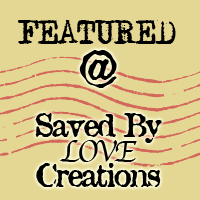 Thanks for coming by!  Join in the fun and share what you have been up to.  This is the last Thrifty Thursday before Halloween, so bring it.  I am going to be in pumpkin withdrawal next week.
How it Works: No giveaways, shops or links to your main blog, please. That way we know when we come to Thrifty Thursday, we will only encounter DIY projects and not end up sifting through a bunch of other links. Entries not related, or to main blog pages/shops/giveaways will be deleted.
Other stuff:
*Stop by my new Facebook page and Like it, if you like it – Click here.
*Please add a text link or my button to your post!
*I will choose 2 participants to feature the following Thursday, Please drop by and love on the features! Their links are in the post where their projects are featured.
*Please visit the at least the 2 blogs above you and shower them with comment love.
*Leave me a comment and let me know you were here. I love hearing from you.
*Have fun and be inspired!
*Stop by and say hello to my crafty friend Nikki and link up to her thrifty party too…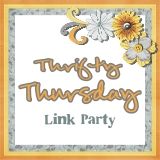 Weekly featured blogs:
You may have noticed I can stay away from paper.  No surprise that this adorable Christmas tree over at Lori's Crafty Spot caught my eye.  Paper has no limits!
Sticking with the paper theme, check out this cool mobile like window dressing at Etcetorize.
Let the sharing begin!