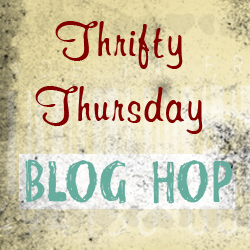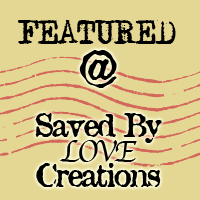 Brrrr!!!  It is cold, windy and rainy here in my hood.  Aside from my fall decor flying around the porch on occasion,   I love it.  Feels like Halloween.
Thanks for stopping by Thrifty Thursday and sharing what you have been crafting.  I love to see your ideas each week.
How it Works: No giveaways, shops or links to your main blog, please. That way we know when we come to Thrifty Thursday, we will only encounter DIY projects and not end up sifting through a bunch of other links. Entries not related, or to main blog pages/shops/giveaways will be deleted.
Other stuff:
*Stop by my new Facebook page and Like it, if you like it – Click here.
*Please add a text link or my button to your post!
*I will choose 2 participants to feature the following Thursday, Please drop by and love on the features! Their links are in the post where their projects are featured.
*Please visit the at least the 2 blogs above you and shower them with comment love.
*Leave me a comment and let me know you were here. I love hearing from you.
*Have fun and be inspired!
*Stop by and say hello to my crafty friend Nikki and link up to her thrifty party too…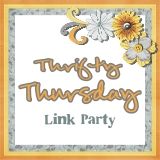 Weekly featured projects:
Check out this adorable pallet art at Hope Abound.  I have some extra pallets, and this got my brain spinning.
This paper garland at Carolyn's Homework is fantastic.  I love the dollar store crows holding it at each end!
Party party!!