*SBLC was down last week for about 48 hours.  Seemed like 2 weeks.  I wasn't sure what the issue was, so I am beyond grateful that I didn't lose my blog altogether.  It went down minutes after I posted week 34 of Thrifty Thursday, so I am re-posting.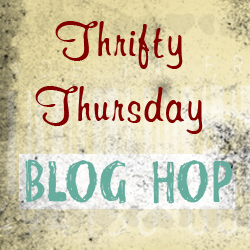 Hi all! Glad you are here for week 34 of Thrifty Thursday. Thanks so much for stopping by and sharing. Once again, I had a hard time choosing just two projects to feature.  Lets keep it up!
Look around and join the fun. The idea is to link to your frugal post, whether it be a DIY, recipe, tip, coupon… if you like it, link it. If you don't have a thrifty post to link to, feel welcome to join the hop anyway, and link to your main blog.
Other stuff:
* Please follow Saved By Love Creations, your host!
*Grab my "Thrifty Thursday" button above and throw it on your lovely site. Let's grow this!
*I will choose 2 participants to feature the following Thursday, Please drop by and follow the features!  Their links are in the post where their projects are featured.
*Follow the blogs that inspire, and please return the gesture by following those who follow you. Leave a comment when you follow so that the blogger will know you are a new follower.
*Leave me a comment and let me know you were here. I love hearing from you.
*Scatter joy, and frugal tips.
*Have fun.
*Stop by and say hello to Nikki and link up to her thrifty party too…
Weekly featured projects:
This window over at Once Upon a Craft Time  is such a cute girl's room piece.  It is fun to see what people create from these frames.  I like how it is used as a bulletin board.  And the window was only $5!
I am digging this bright, summery tissue paper wreath by Nikki at Thrifty Decorating.  The colors and flowers are splendid.  Anytime you incorporate a pizza box into your decor and make it work like this, you win 🙂
Time to mingle…