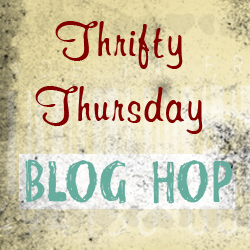 Hi all! Glad you are here for week 33 of Thrifty Thursday. Thanks so much for stopping by and sharing.  You guys are quite inspiring to me, just so you know.  It is always hard to pick just 2 projects to feature.  Keep it coming!!
Look around and join the fun. The idea is to link to your frugal post, whether it be a DIY, recipe, tip, coupon… if you like it, link it. If you don't have a thrifty post to link to, feel welcome to join the hop anyway, and link to your main blog.
Other stuff:
* Please follow Saved By Love Creations, your host!
*Grab my "Thrifty Thursday" button above and throw it on your lovely site. Let's grow this!
*I will choose 2 participants to feature the following Thursday, Please drop by and follow the features!  Their links are in the post where their projects are featured.
*Follow the blogs that are must reads, and please return the gesture by following those who follow you. Leave a comment when you follow so that the blogger will know you are a new follower.
*Leave me a comment and let me know you were here. I love hearing from you.
*Scatter joy, and frugal tips.
*Have fun icon smile Thrifty Thursday Week 31
*Stop by and say hello to Nikki and link up to her thrifty party too…
Weekly Featured Blogs:

Connie at Salvage Savvy crafted this lovely pillow
Donna at Catch a Falling Star revamp old pasta jars into lovely lanterns.  I can't wait to try this project.  Saving jars left and right.  Great job, Donna!