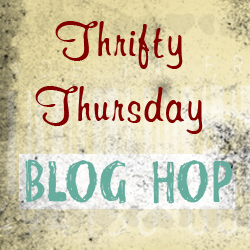 Week 30 of Thrifty Thursday!  This week has gone by crazy fast.  If you are new here, welcome.  If you are back, I am so glad you came to inspire and be inspired.
Look around and join the fun. The idea is to link to your frugal post, whether it be a DIY, recipe, tip, coupon… if you like it, link it. If you don't have a thrifty post to link to, feel welcome to join the hop anyway, and link to your main blog.
Other stuff:
* Please follow Saved By Love Creations, your host!
*Grab my "Thrifty Thursday" button above and throw it on your lovely site. Let's grow this!
*I will choose 2 participants to feature the following Thursday, Please drop by and follow the features! REMEMBER that to be chosen as a featured site, you must follow SBLC via GFC.
*Follow the blogs that are must reads, and please return the gesture by following those who follow you. Leave a comment when you follow so that the blogger will know you are a new follower
*Leave me a comment and let me know you were here. I love hearing from you.
*Scatter joy, and frugal tips.
*Have fun 
*Stop by and say hello to Nikki, browse her great crafty DIY projects  and link up to Thrifty Thursdays…
Weekly Featured Blogs:
Gail at Can't Stop Making Things created this adorable game piece necklace.   I have a soft spot for scrabble tiles and dominoes.  Raid the game closet and grab some wire and pliers!
Jess over at Balancing the Dream made a knock of art decoupage piece that I am drooling over.  I can't imagine the original being any more precious than this.  Great job.
I can't wait to see this weeks projects!