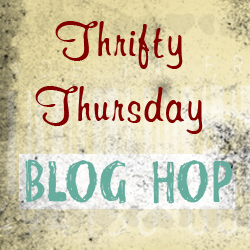 Week 27 of Thrifty Thursday.  I missed having Thrifty Thursday last week.  It felt strange.  My blog was down while I was transferring to WordPress.  The whole experience gave me an opportunity to see just how addicted to this whole thing I actually am.  It was a bit of a hassle, but like anything I have ever attempted here, there is a ton of support in blogland.  I have yet to be left with an unsolved dilemma.  I can see already that WP is quite powerful.  I am going to wait a month or so to do a full review of the experience, until I can get some traffic numbers to compare.  I will say that I used Blogelina to do my transfer, and would recommend Tanya and her team to anyone considering the move.
Back to the hop.  Yippie!!!
Look around and join the fun.  The idea is to link to your frugal post, whether it be a DIY, recipe, tip, coupon… if you like it, link it.  If you don't have a thrifty post to link to, feel welcome to join the hop anyway, and link to your main blog.
Other stuff:
* Please follow Saved By Love Creations, your host!
*Grab my "Thrifty Thursday" button above and throw it on your lovely site.  Let's grow this!
*I will choose 2 participants to feature the following Thursday,  Please drop by and follow the features!  They are numbers 2 and 3 in the thumbnail list.  REMEMBER that to be chosen as a featured site, you must follow SBLC via GFC.
*Follow the blogs that are must reads, and please return the gesture by following those who follow you.  Leave a comment when you follow so that the blogger will know you are a new follower
*Leave me a comment and let me know you were here.  I love hearing from you.
*Scatter joy, and frugal tips.
Weekly Featured Blogs:
Mommy's Online Garage Sale:  Jen at Mommy's Online Garage Sale has a venue for wonderful thrifty items.  You can post items for sale, NO FEES, or shop for gently used items in great condition.  Don't forget to check out her coupons, and her growing Blogger to WordPress portfolio.  Yep, she is a web designer too.  Go Jen!


Crayon Freckles:  Andie impressed me with her first mod podge project, a canvas for her teen daughter's room.  I must say the rest of the room was fabulous too.  Keep it coming, woman!