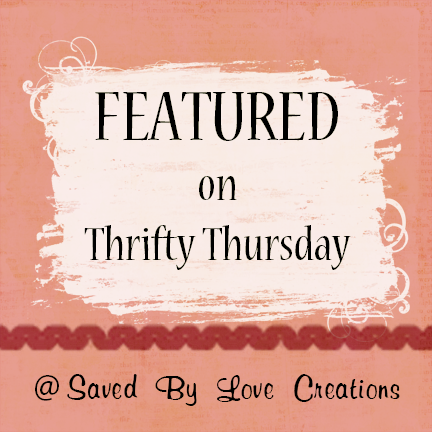 Week 25 of Thrifty Thursday.  Ok, so it's kinda rainy and cold here, but I just know the warmth is coming to stay soon.  I can't wait for yard sales, and more camping.  What are your summer plans?  We are marathon training (see
this post
).  That, and I am gardening for the first time!  Tomatoes, cucumbers, peppers and squash.  Wish me luck.  Better yet, send me tips.
Look around and join the fun.  The idea is to link to your frugal post, whether it be a DIY, recipe, tip, coupon… if you like it, link it.  If you don't have a thrifty post to link to, feel welcome to join the hop anyway, and link to your main blog.
Other stuff:
* Please follow Saved By Love Creations, your host!
*Grab my "Thrifty Thursday" button above and throw it on your lovely site.  Let's grow this!
*I will choose 2 participants to feature the following Thursday,  Please drop by and follow the features!  They are numbers 3 and 4 in the thumbnail list.  REMEMBER that to be chosen as a featured site, you must follow SBLC via GFC.
*Follow the blogs that are must reads, and please return the gesture by following those who follow you.  Leave a comment when you follow so that the blogger will know you are a new follower
*Leave me a comment and let me know you were here.  I love hearing from you.
*Scatter joy, and frugal tips.
Weekly Featured Blogs:
Look at these adorable spray painted tissue pom poms from Vivienne.  Tissue paper may be the one thing I haven't spray painted!  Great idea.  Thanks, V.
*Over at
Meg and Mum's
I saw the most adorable coffee table turned bed end!  I must give this a try.
In case I haven't said it lately, I love my followers and I so appreciate the inspiration I get from you awesome bloggers.  Thank you from the bottom of my heart for all you share.  You enhance my life and inspire me!!
Lets do this…