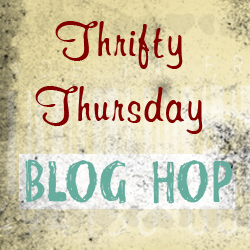 Week 26 of Thrifty Thursday.  I must prepare you, you are about to see some changes around here.  I am switching to WordPress from Blogger, so if things get squirelly momentairily, that is the culprit.  Also, my Mac is out of commission until Friday.  I am using the hubby's PC.  This post is taking forever!!  If I am slow to get back to you for the next 2 days, be patient, please!
Look around and join the fun.  The idea is to link to your frugal post, whether it be a DIY, recipe, tip, coupon… if you like it, link it.  If you don't have a thrifty post to link to, feel welcome to join the hop anyway, and link to your main blog.
Other stuff:
* Please follow Saved By Love Creations, your host!
*Grab my "Thrifty Thursday" button above and throw it on your lovely site.  Let's grow this!
*I will choose 2 participants to feature the following Thursday,  Please drop by and follow the features!  They are numbers 3 and 4 in the thumbnail list.  REMEMBER that to be chosen as a featured site, you must follow SBLC via GFC.
*Follow the blogs that are must reads, and please return the gesture by following those who follow you.  Leave a comment when you follow so that the blogger will know you are a new follower
*Leave me a comment and let me know you were here.  I love hearing from you.
*Scatter joy, and frugal tips.
Weekly Featured Blogs:
Heather at DIY Kinda Girl posted this simple and cute envelop pillow tutorial here.  It is great because it is easy, and you can slip the cases off to easy wash them or switch them out when you change your decor!

Over at 221 Vision is this awesome bathroom mirror frame DIY tutorial.  I love this idea.  I can't wait to try it in my bathroom!