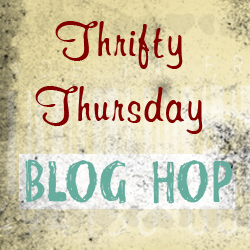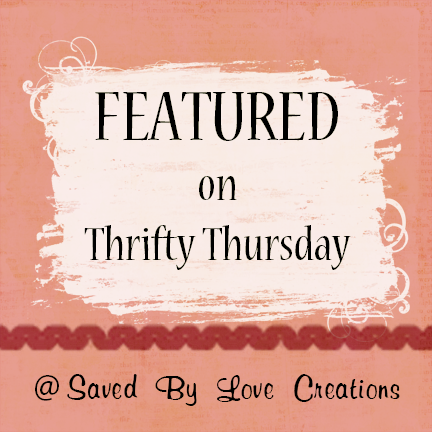 Week 22 of Thrifty Thursday. I am gonna be quick about this, cause I really just want to be beading 🙂
Look around and join the fun. The idea is to link to your frugal post, whether it be a DIY, recipe, tip, coupon… if you like it, link it. If you don't have a thrifty post to link to, feel welcome to join the hop anyway, and link to your main blog.
Other stuff:
* Please follow Saved By Love Creations, your host!
*Grab my "Thrifty Thursday" button above and throw it on your lovely site. Let's grow this!
*I am hosting a Saved By Love Creations Pendant GIVEAWAY,
here
. Make sure to check it out! It ends 5/1.
*I will choose 2 participants to feature the following Thursday and to receive a free week of advertising on SBLC (under "love worthy sponosors' in sidebar). To receive the free ad week, you must have a button for your blog! Please drop by and follow the features! They are numbers 2 and 3 in the thumbnail list. REMEMBER that to be chosen as a featured site, you must follow SBLC via GFC.
*Follow the blogs that are must reads, and please return the gesture by following those who follow you. Leave a comment when you follow so that the blogger will know you are a new follower
*Leave me a comment and let me know you were here. I love hearing from you.
*Scatter joy, and frugal tips.
Weekly Featured Blogs:
*Can't Stop Making Things Gail has some wonderful creative projects. Go check her out and follow along. Here are some of my favorites…
She made this Moroccan box from aluminum tape and PVC!!
I love this pottery barn egg knock off! She also has some cool jewelry tutorials that I will be diving into eventually.
*Suzy's Artsy Craftsy Sitcom One of my favorite places for inspiration. Check out these popsicle stick bracelets…