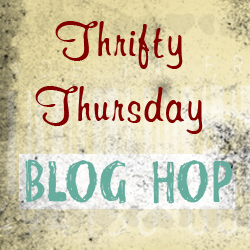 Week 6 of Thrifty Thursdays. The idea is to link to your frugal post, whether it be a DIY, recipe, tip, coupon… if you like it, link it. If you don't have a thrifty post to link to, feel welcome to join the hop anyway, and link to your main blog.
Other stuff:
*Grab my "Thrifty Thursday" button above and throw it on your lovely site. Let's grow this!
*I will choose 2 participants to feature the following Thursday, please drop by and say hello to the feature bloggers. And follow them if it pleases!
*Follow the blogs that toot your horn, and feel free to follow anyone who follows you. Leave a comment when you follow so that the blogger will know you are a new follower.
*Leave me a comment and let me know you were here. I love hearing from you and will visit you back.
*These are not rules, just suggestions!
*Have fun 🙂
This week I had a hard time choosing because of all of the wonderful entries from last week's hop!! Thank you to everyone who participated, and keep at it, you will be chosen eventually!
1. Clara's Crochet Room

I have been obsessed with crochet and knit, as I always am this time of year. I recently met Clara, and have found some wonderful fiber projects on her lovely site. Some favorites…
Stop by and let yourself be inspired by Clara!
2. Skitt A Skatt Furniture: Felicia over at Skitt A Skatt has some amazing furniture makeovers and other tutorials. I love the harlequin table, and these adorable DIY cake plates (with a detailed tutorial). Check out her Etsy store while you are there!!