Meet Me Monday posts five questions as a means of us all knowing each other a little better. This is my first time playing…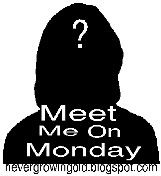 Questions:
1. What is your favorite kind of fudge?
2. Is there snow outside your window?
Lots of it. For awhile now. And snowing. I LOVE it!
3. What is your favorite meal of the day?
Breakfast. Yummy. In fact, it's about that time.


4. Do you text on your cell phone?
Daily


5. Waffles or pancakes?
I can't decide. Anything with a bunch of syrup and powdered sugar on top is pretty much gonna work for me.