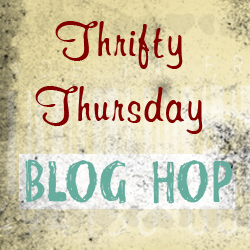 It's Thursday again. Merry Christmas, all! Link up to Thrifty Thursday and share some joy!
If you don't have a thrifty post to link to, feel welcome to join the hop anyway, and link to your main blog.
*Grab my "Thrifty Thursday" button above and throw it on your lovely site. Help me get the word out there so the hop grows!
*I will choose 2 participants to feature the following Thursday, and I will place their button in my ad space for the week. Free adverts. Woohoo. Please drop by and say hello to the feature bloggers. And follow them if it pleases!
*Follow the blogs that toot your horn, and feel free to follow anyone who follows you. Make sure to leave comments so you will be recognized as a new follower.
*Leave me a comment so I can visit you!
Featured Lovely Bloggers:
I love Annemarie's crochet addiction (she is a self proclaimed addict to the craft) . Go check her out. She has the cutest things, and a lovely new Etsy store. My favorite is the star garland. So adorable…

2. Homemade Ginger; I just met Megan recently, and am so inspired!! Her felt flowers are adorable and her site bubbles with yummy recipes, handmade projects, and cuteness all around. Look at this wonderful winter wreath:
Thanks for the inspiration, Megan!