Week three already… wow. Join Thrifty Thursdays and showcase your frugal recipes, projects or ideas. Or just join and enjoy!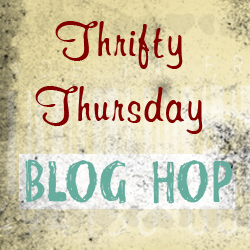 Some things:
*If you don't have a thrifty post to link to, feel welcome to join the hop anyway, and link to your main blog.
*Grab my "Thrifty Thursday" button above and throw it on your lovely site. Help me get the word out there so the hop grows!
*I will choose 2 participants to feature the following Thursday, and I will place their button in my ad space for the week. Free adverts. Woohoo. Please drop by and say hello to the feature bloggers. And follow them if it pleases!
*Follow the blogs that toot your horn, and feel free to follow anyone who follows you. Make sure to leave comments so you will be recognized as a new follower.
*Leave me a comment so I can visit you!
Feature Lovely Bloggers
Tons of craft videos and inspiration for living simply! I love that Kelly is documenting her journey towards living with 100 things. That is awesome. Check out her most recent post, a video on making Christmas tree ornaments!