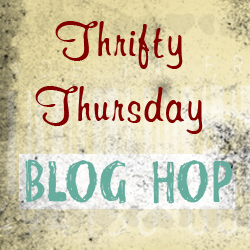 Back for week 2 of Thrifty Thursdays blog hop. The idea is to link to your frugal post, whether it be a DIY, recipe, tip, coupon… if you like it, link it. If you don't have a thrifty post to link to, feel welcome to join the hop anyway, and link to your main blog.
Other stuff:
*Grab my "Thrifty Thursday" button above and throw it on your lovely site. I love the attention, really I do. I wanna have a big ol' blog party, so help me out if you are so inclined.
*I will choose 2 participants to feature the following Thursday, and I will place their button in my ad space for the week. Free adverts. Woohoo. Please drop by and say hello to the feature bloggers. And follow them if it pleases!
*Follow the blogs that toot your horn, and feel free to follow anyone who follows you. Leave a comment when you follow so that the blogger will know you are a new follower.
*Leave me a comment (see above, I like the attention)!
Feature Lovely Bloggers:
1. Vintage Wanna Be
I just recently found this blog and love it. I don't know how this girl maintains her site while doing the college student deal, but she is fabulous! At 21 years of age, she has endured some major challenges (oh yeah, she has a personal blog too) and has shone brightly, loves life, and is brilliantly creative. I can't wait to try out Nichelle's satin flower tutorial, here. She has wonderful ideas for hair accessories. Show her some lovin. You will be impressed too!