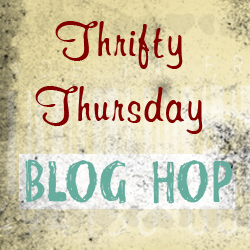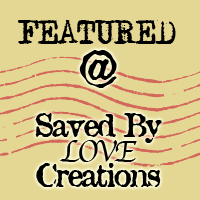 You all ready for Santa?  This is my second Christmas as a crafty blogger, and I am amazed by all of the handmade beauty in the spirit of the season.  I don't remember ever being this energized creatively.  The more I do and see from you all, the more ideas I have, the more I do.  It is an awesome cycle.  You all help me in the process of growing into my creativity and... well, I love ya for it.  Thank you for all of your hard work, encouragement and generosity.  You rock. Ok.  Business now.  This is the last Thrifty Thursday between now and Christmas.  Whatcha got?  If you need tags for those gifts, stop and grab some of the adorable free printable tags at
Printable Decor
. Shameless self promotion over now.
How it Works:
No giveaways, shop or links to your main blog, please. That way we know when we come to Thrifty Thursday, we will only encounter DIY projects and not end up sifting through a bunch of other links. Entries not related, or to main blog pages/shops/giveaways will be deleted. Other stuff: *Please add a text link or my button to your post! *I will choose 2 participants to feature the following Thursday, Please drop by and love on the features! Their links are in the post where their projects are featured. *Please visit the at least the 2 blogs above you and shower them with comment love. *Leave me a comment and let me know you were here. I love hearing from you. *Have fun and be inspired! *Stop by and say hello to my crafty friend Nikki and link up to her thrifty party too…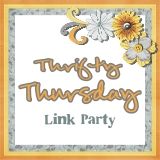 Featured Projects:
Meet Vanessa, the woman behind Nifty Thrifty Things.  Her blog is full of beautiful photographs, design, recipes, crafts and more, with a vintage flair that always keeps me interested.  I love this paper snowflake garland she shared last week.
Jen from At Home in the Northwest caught my eye with this monogram welcome mat for a whopping $7.  I can't get enough of monograms these days and this take on it is one I hadn't considered.  Great look, simple and cheap... that's all I need.
Now for the best part...