Archives for January 2011
by
It has been awhile since I have had any "photo to art" business, so I am taking the opportunity to promote this service.
You can see the customer's original photo and the pop art portrait I created from that. How it works: send me the photo you would like as art, pick out a style from my "Custom Photos to Art" Gallery, here, and I will provide you with 3 proofs from which you can choose. If you want something different than what you see in my gallery, just talk to me. I am happy to customize to your specs. Once you are happy with a proof, I will have it printed and sent to you (price varies depending on size). You can also buy the high res electronic file for $10 and have it printed as you wish, instead of or in addition to purchasing a print from me. This customer chose 11×14 for $20 total (for the artwork and final print).
My prices are pretty awesome compared to other sites that offer similar services (usually starting at $100). The reason I am able to provide this service at such a low cost is because… Photoshop is amazing, really. I put in the hours of photo editing for each of the styles you see available 2 years ago and saved the steps in Photoshop as "Actions", which I can apply to your photos with a click. I end up doing some tweaking, as each photo is obviously different, but what would normally take several hours per pic is achieved in a fraction of the time. You can see an example of my work on child portraits at Infarrantly Creative, here.
I would very much like to get the word out about this great deal. If you are a blogger and would like to trade, I am open to doing work in exchange for a review/feature, or a giveaway on your site. Lets work together!
by
I am officially feeling arthritic. Knitting needles are my new appendages. Here is the latest: My mom wanted a cream scarf to go with a new coat. I found the over at Bernat, and the mitten pattern at ravelry.com. I used Yarn Bee "Melody Bulky Wool Blend" in Alabaster which I bought at Hobby Lobby. It is 70% wool and 30% acrylic, making it machine washable and dryable, with the warmth of wool. I washed these on warm and tumbled dry on low heat. They did not felt any noticeable degree, and emerged from the dryer all cuddly soft. I finished both patterns over a 3 day span (knitting a little obsessively), so if you need a quick, beautiful and classic project, give it a shot. Both patterns great for beginners! Spend time with yarn daily…
by
I haven't busted out the pasta machine and clay since "100 Days of Polymer Clay". Clay is so FUN. This is a gift I made for my stepson's girlfriend. I stamped "HOPE" onto the faux stone clay, inked, baked…accessorized with steampunk findings, and there you go. A cute little keychain or backpack dangly. Easier than a paper airplane. I missed you clay.
by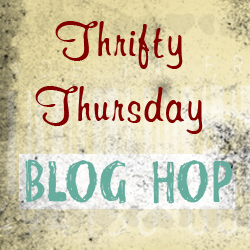 Week 6 of Thrifty Thursdays. The idea is to link to your frugal post, whether it be a DIY, recipe, tip, coupon… if you like it, link it. If you don't have a thrifty post to link to, feel welcome to join the hop anyway, and link to your main blog.
Other stuff:
*Grab my "Thrifty Thursday" button above and throw it on your lovely site. Let's grow this!
*I will choose 2 participants to feature the following Thursday, please drop by and say hello to the feature bloggers. And follow them if it pleases!
*Follow the blogs that toot your horn, and feel free to follow anyone who follows you. Leave a comment when you follow so that the blogger will know you are a new follower.
*Leave me a comment and let me know you were here. I love hearing from you and will visit you back.
*These are not rules, just suggestions!
*Have fun 🙂
This week I had a hard time choosing because of all of the wonderful entries from last week's hop!! Thank you to everyone who participated, and keep at it, you will be chosen eventually!
1. Clara's Crochet Room

I have been obsessed with crochet and knit, as I always am this time of year. I recently met Clara, and have found some wonderful fiber projects on her lovely site. Some favorites…
Stop by and let yourself be inspired by Clara!
2. Skitt A Skatt Furniture: Felicia over at Skitt A Skatt has some amazing furniture makeovers and other tutorials. I love the harlequin table, and these adorable DIY cake plates (with a detailed tutorial). Check out her Etsy store while you are there!!
by
Visiting a dear friend, we ended up doing yoga in her kitchen. Her dog Max decided to join, providing this wonderful wordless wednesday photo!
by

This project was inspired by my niece, who has always adored cats. I knew she would rock this look and I was right! Read on for pattern.
I knitted on long circular needles (size 10) for the hat part, and used "full o' sheep" yarn in black.
For the ears, I used Size 7 needles.
Please read pattern before starting. I felted the final project lightly in the washer on hot because I like the look of the felted stitches. If you plan to skip this part, or use non felting yarn, take that into consideration when sizing, as the hat will be bigger than the one pictured and you may want to change needle size.
HAT

Cast on 66 sts Using DPN or Long Circular Needles and join in the round being sure not to twist cast on row

Rows 1-4:
Purl.

Rows 5 and 6:
work in St st (which, when working in the round means knitting each row). Continue until piece measures about 6 in. from beg.

Shape Crown
Next (Dec) Row:
K7, k2tog, *pm, k2tog, k12, k2tog; rep from * 2 more times, pm, k2tog, k to end – 58 sts remain at end of row.

Next Row\:
Knit.

Next (Dec) Row:
*K to 2 sts before marker, k2tog, sm, k2tog; rep from * 3 more times, k to end – 50 sts at end of row.

Next Row:
Knit
Rep last 2 rows 5 more times.
Cut yarn, leaving a long tail. Thread tail through rem 10 sts and pull together.
EARS
Left ear:
using the size 7 needles (or size desired – not crucial to be exact gauge here)
pick up 13 sts along

decrease seam, in desired position beginning with the WS:
Rnd 1-3 knit in seed st pattern to end. (11 sts)
Rnd 4 (RS) ssk, seed st pattern to last 2 sts, k2tog. (9 sts)
Rnd 5 and al l WS rows knit in established seed st pattern.
Rnd 6, 8, 10 (RS) as Row 4.
Rnd 12 (RS) k3tog.
Right ear:
using the size 7 needles (or size desired – not crucial to be exact gauge here) , pick up 13 sts along
decrease seam, beginning with the WS, continue as for the left.
Weave in all loose ends. Lightly felt my machine washing in HOT water. Let air dry. This tightens up and neatens the stitches. *IMPORTANT* If you used wool, from this point on, hand wash in cold water only, air dry.